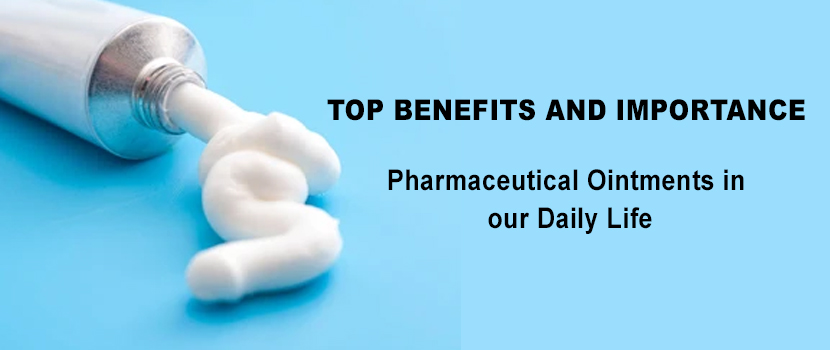 The pharmaceutical ointment is a medicated topical preparation used to treat skin conditions. It is typically a semi-solid mixture of a medication and a base, such as petroleum jelly or beeswax that is applied to the skin. These ointments are used to treat a variety of skin diseases like dryness, itching, inflammation, infection, and wounds.
These ointments can also be used to deliver medications through the skin, like hormone replacement therapy or pain management. These pharmaceutical ointments are considered to be better than creams or lotions. Therefore they are more effective at treating dry or scaly skin conditions.
These ointments are semisolid preparations that contain active ingredients like antibiotics, corticosteroids, or other medications. These ointments form a protective barrier on the skin, trapping moisture and preventing the medication from evaporating. Due to its unique features, demand for pharmaceutical ointment suppliers is increasing. Here are some of the benefits of pharmaceutical ointments.
Pain relief
Pharmaceutical ointments can be used to alleviate pain caused by conditions such as arthritis, muscle strains, and sprains.
Healing of wounds
Ointments can be used to promote the healing of minor cuts, scrapes, and burns. Due to multipurpose characteristics, it is highly demanded in curing wounds, cuts, etc.
Moisturizing
Some ointments are formulated to moisturize dry, cracked, or irritated skin. Therefore, these ointments help prevent the skin from getting dry and irritated. This ointment helps in reducing the risk of cracking and dryness associated with certain skin conditions.
Anti-inflammatory
Some ointments contain anti-inflammatory agents that can reduce inflammation and swelling associated with conditions like eczema, psoriasis, and acne. These ointments reduce swelling and other skin diseases.
Antimicrobial
Some ointments contain antimicrobial agents that can help prevent or treat bacterial and fungal infections. Owing to the presence of antibacterial properties in the ointment, these are acknowledged by the customers for getting relief from skin problems.
Easy to use
Ointments are easy to apply and can be used on a variety of body parts, including the face, hands, feet, and scalp. Due to easy operation, these ointments are highly acknowledged.
Durable
Ointments tend to stay on the skin longer than other forms of medication, providing prolonged relief. Since the ointment lasts for a longer time; it is highly acclaimed by customers in the market. This ointment protects the skin from further irritation.
Cost-effective
Ointments are generally less expensive than other forms of medication, making them a cost-effective option for treating minor skin conditions. Due to its cost-effectiveness, it is highly demanded to heal skin-related problems.
Pharmaceutical ointments are vital for treating a variety of skin conditions like dry skin, eczema, psoriasis, and burns. These Ointments are more effective than creams or lotions in treating these conditions. These ointments create a barrier on the skin that helps to retain moisture and protect the skin from damage.
These ointments can be formulated with active ingredients like antibiotics or steroids to help fight infection or reduce inflammation. These ointments can be applied topically on the skin and can be used for the treatment of skin conditions. These ointments are also used as a protective layer for the skin. These ointments are usually used for antiseptics, emollients, etc.
These ointments deliver medications to affected areas of different regions of the body. The creams are thicker than lotions and ointments are thicker and greasier. These ointments are considered to be the reliable choice for dry heels, etc. These ointments keep moisture sealed for longer periods and also help in healing. Here are some of the benefits of pharmaceutical ointment suppliers to look for before approaching them.
Warranty
The vital point for selecting the pharmaceutical ointment supplier is to look for the warranty offered by the suppliers. Reliable suppliers should provide a warranty for the products in case they are damaged while in transit.
Economical
The products are often provided at affordable rates to retailers. Therefore, the suppliers should provide products at market-effective rates. If the price is high, then ointments will be of no use and should be affordable.
High Quality
The ointments should be of high quality and should solve various skin-related problems. These products need to be skin-friendly and durable.
Size
These ointments should be available in a variety of sizes and should be customized as per the requirements of the customers. These ointments should be available in small to large sizes.
These pharmaceutical ointments consist of semisolid preparations that are applied to the skin, eyes, and membranes. These ointments have a greasy consistency that is applied to the skin. The commonly used bases in ointments are petroleum jelly, waxes, vegetable oils, lard, lanolin, etc.
These ointments contain fragrance and preservatives. There are four types of ointments available Hydrocarbon bases, absorption bases, water-removable bases, water-soluble bases, etc. These ointments are chemically stable and uniformly distributed. These ointments should be free from any type of grittiness.
These ointments act as moisturizers and are considered to be reliable for dry skin. These ointments have a lower risk of sensitization. Low sensitization is present in ointments due to fewer ingredients, fat, and low irritation risk.
So, we can conclude that these ointments are highly preferred against cream or lotion. These ointments are of high quality and easy to use. These ointments can be used for longer periods and provide pain relief. These ointments provide anti-microbial protection and are easy to use. Therefore, if you are looking to procure quality products from a supplier, then do adequate research about them.
These ointments are widely prescribed over creams and lotions by doctors. These ointments help reduce various pains as compared to other creams and lotions. So, if you have made a plan to sell ointments, the above-mentioned benefits should be kept in mind. These ointments are cost-effective and can be easily available at various medical shops.
These ointments have a variety of applications like cleansing, beautifying, and moisturizing. These ointments are thicker and more effective in hydrating. These ointments hold moisture for a longer period. These ointments are more potent than curing and are more effective. The vital function is to treat infections and also slow down the growth of bacteria.