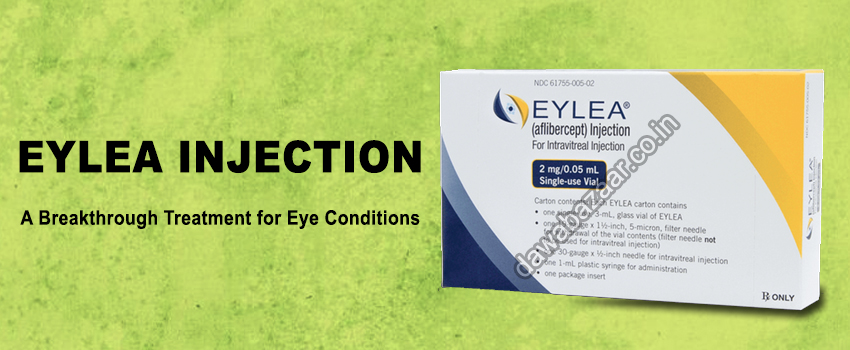 A ground-breaking method of treating numerous eye problems is Eylea Injection from an Eylea Injection Manufacturer. It gives millions of sufferers throughout the world new hope. This ground-breaking drug, created by Regeneron Pharmaceuticals, has successfully treated diabetic macular edoema (DME), age-related macular degeneration (AMD), and other retinal diseases.
Let's examine the main characteristics and advantages of Eylea Injection. Look into its mode of operation and how it has altered the practice of ophthalmology.
Understanding Eylea Injection:
As an intravitreal injection, Eylea Injection is given right into the vitreous humour of the eye. Aflibercept, a fusion protein that suppresses vascular endothelial growth factor (VEGF), is the drug's active component. Eylea efficiently lowers aberrant blood vessel development and leakage, which are frequent causes of retinal disorders by specifically targeting VEGF.
Treating Age-Related Macular Degeneration (AMD):
In adults over 50, age-related macular degeneration is the main factor contributing to visual loss. For both wet and dry AMD, Eylea has become the gold standard of care. By limiting the development of aberrant blood vessels and stopping fluid leaking, the injection successfully slows the course of wet AMD. Thus, it maintains the patient's quality of life and vision.
Managing Diabetic Macular Edema (DME):
A serious visual impairment may result from diabetic macular edoema, a consequence of diabetes. Eylea's effectiveness in treating DME is attributed to its capacity to lessen retinal edoema, improve patients' everyday functioning, and restore vision quality. It has been praised as a paradigm-shifting procedure that gives diabetics a second shot at having better vision.
Administering Eylea Injection:
A licensed ophthalmologist administers Eylea Injection in a clean environment. It takes only a little time and is painless. To reduce pain, local anesthesia is used to numb the eye prior to the injection. After the medicine has been properly administered by the ophthalmologist, patients may typically quickly return to their regular activities.
Safety and Side Effects:
Patients typically tolerate Eylea Injection well. Temporary eye irritation, redness, or minor pain at the injection site are examples of common adverse effects. Even though they are uncommon, serious side effects such as eye infections or raised intraocular pressure are possible. It's crucial to schedule routine follow-up appointments with the ophthalmologist to track development and address any issues as soon as they arise.
Eylea vs. Other Treatments:
Clinical studies for Eylea Injection have shown it to produce better outcomes than other existing therapies. It has become a popular option among patients and medical professionals because of its longer-lasting benefits and decreased injection frequency. It also simplifies treatment planning and boosts patient compliance to be able to treat several eye disorders with the same drug.
The Impact on Patients' Lives:
Numerous patients' lives have been significantly improved by Eylea Injection, which gives them fresh hope and protects their priceless vision. After obtaining Eylea medication, many people who formerly faced the possibility of experiencing permanent vision loss have noticed notable improvements in their visual acuity and quality of life.
Future Directions and Ongoing Research:
Research on Eylea Injection is always developing, jusEylea Injection ManufacturerEylea Injection Manufacturert like any other medical development. The medication's long-term efficacy and safety are being investigated, as well as its potential uses in treating other retinal illnesses, in ongoing research. Ophthalmology continues to push the boundaries of knowledge and innovation, which bodes well for the future of the discipline.
A game-changing therapy for a number of retinal diseases is Eylea injection from an Eylea Injection Manufacturer. Patients benefit from maintaining their vision and regaining control over their lives. Eylea has deservedly earned its status as a game-changer in the field of ophthalmology thanks to its exceptional effectiveness, safety profile, and few side effects.
For people with retinal illnesses, the future appears more promising than ever as science and technology advance. It's all because of Eylea Injection.