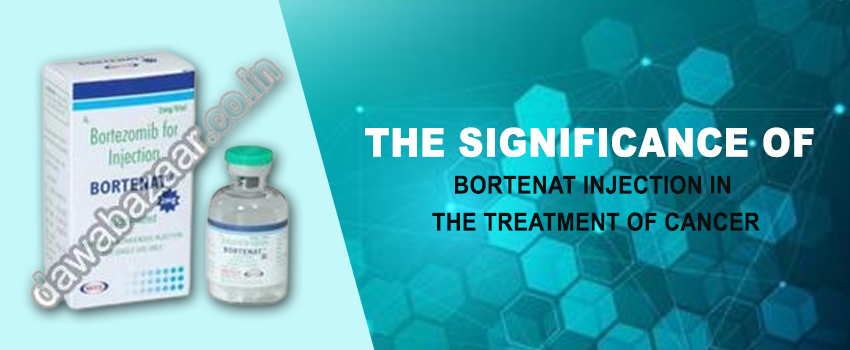 A drug called Bortenat injection is used to treat multiple myeloma and some forms of lymphoma. It is commonly referred to as bortezomib. It is an effective targeted medication that stops the proteasome from degrading proteins in the body.
Bortenat injection is generally found with Bortenat Injection Suppliers in India. Let us explore its significance in the treatment of cancer.
Multiple Myeloma: What Is It?
White blood cells called plasma cells are the target of the malignancy known as multiple myeloma. The creation of aberrant proteins and the deterioration of good bone tissue becomes common. It happens as a result of abnormal plasma cells multiplying uncontrollably.
How Does Injection of Bortenat Help?
The action of the proteasome, which breaks down aberrant proteins, is blocked by the injection of Bortenat. As a result, these proteins build up inside the cancer cells, eventually killing them. Bortenat injection helps in halting the development of new blood vessels that supply the cancer cells with nutrition. Bortenat injection can also aid in decreasing the growth of cancer cells.
How Is The Injection Of Bortenat Administered?
The most common way to administer Bortenat injection by Bortenat Injection Suppliers in India is via an intravenous infusion. It involves slowly injecting the medication into a vein over time. The injection is often administered by a medical expert in a hospital or clinic environment.
Bortenat injection causes the buildup of aberrant proteins within cancer cells. This ultimately results in the death of the cancer cells, by disrupting the proteasome's function. Usually, a medical expert administers a Bortenat injection as an intravenous infusion in a hospital or clinic environment.
Bortenat injection is effective in enhancing outcomes for patients with multiple myeloma and lymphoma. This has been demonstrated, despite the possibility of adverse effects.
What Side Effects Can Bortenat Injection Cause?
Like many medicines, the injection of Bortenat may have unwanted consequences. Nausea, diarrhea, constipation, exhaustion, and low blood cell counts are a few of the typical adverse effects.
Peripheral neuropathy, a disorder that affects the nerves in the hands and feet, may also be experienced by patients. Rarely, the injection of Bortenat may result in a serious allergic response or cardiac issues.
What Advantages Does Injection Bortenat Offer?
It has been demonstrated that the injection of bortenat can successfully treat multiple myeloma and some forms of lymphoma. It may aid in reducing illness severity, enhancing quality of life, and boosting survival rates.
Who Can Benefit from the Injection of Bortenat?
Patients with multiple myeloma, who have not responded to prior therapies often receive a bortenat injection. Patients who are not candidates for stem cell transplantation may also utilize it as their first line of treatment.
Patients who are thinking about getting a Bortenat injection should talk to their doctor about the advantages and disadvantages.
Conclusion
An important drug used to treat multiple myeloma and some forms of lymphoma is bortenat injection. By preventing the proteasome from functioning, it kills cancer cells. Although Bortenat injection might have side effects, for many people the advantages of the drug can exceed the dangers.
You or a loved one might have been diagnosed with multiple myeloma or lymphoma. It's crucial to talk to your doctor about all available treatments, including the use of the injectable Bortenat.